Hello all! I thought I should post this here as well. Those of you who frequent ModHalo.net or HaloMaps.org (or even the Halo 1 section on Bungie.net) may have seen this thread posted before. I recently joined this community, however I am not new to modding. I have been an active member of ModHalo.net since 2009. Well basically, I'd like to tell you of the biggest project I've yet to work on (and honestly the only one I've worked on which demonstrates my current abilities). To begin, let me explain my niche in modding - I am a scripter, first and foremost. This has implications of AI, cutscenes, and overall gameplay development, which I do so enjoy. As the quote beneath my avatar so eloquently describes, my specialties are all of that plus the interesting addition of ui_widget_definitions. Yes, I know how to do most other aspects of modding, yet I frankly find no enjoyment in doing them, and to be quite honest I don't see myself as doing a good job with them
Before proceeding further, please do note that I have quite an ego and a decently-developed superiority complex, so pardon me if I happen to seem overly ambitious in my attempts to demonstrate proficiency.
What exactly is this project which I speak of? Well simply put, it is a custom campaign with a custom story. Shall I delve into greater detail? Of course! This campaign is a free-roam adventure in which you make all the decisions concerning how to proceed, similar to Borderlands. You choose the mission you'd like to do at that moment in time. You earn points, and decide how to spend them. Spend on what? Ah, that my friend might interest you as well. This campaign comes fully loaded with an arsenal of air support to choose from, which assists you from above in your quest of violence! But enough rambling on, allow me to show you in an organized list just what you can expect.
Overall Gameplay Description:
Your pause menu is the control panel for your entire experience in Red Skulls. You choose missions, purchase air support, travel to destinations, and configure various settings. All of these are outlined below.
- Missions: there are three mission categories from which to choose a mission... Research and Development, Tactical Assault, and Main Story. All missions award points and are important to complete the game, although only Main Story missions unlock new locations as you progress.
- Travel: as you progress in the main storyline, you will come across instances where you need to move your base of operations to a different location. Don't fret if you didn't complete all missions in the area you are currently in, as locations which you unlock are saved in your travel menu. By selecting an unlocked location, you summon immediate extraction to the desired area, and are able to resume the completion of any missions left untouched in that area.
- Air support, vehicles, and loadouts: support points are awarded to you for killing enemies and completing missions. Selecting the support menu from the RS control panel in your pause menu will allow you to spend these points on various air support types, weapon loadouts, and vehicles. After purchasing a support craft, it is yet to be decided whether or not to have it immediately deploy to the area or await your signal (via the flashlight, or possibly a button in the menu). Some of the air support types are listed in the next section.
- Customization: the customization menu allows for the setup of certain options and features. This includes the default automatic support used (orbital laser or orbital rocket strike, both listed in the next section), as well as the behavior of support which you purchase and summon. You also may choose whether or not to automatically travel to new locations when they are unlocked by beginning a certain mission, and other such small preferences.
Brief List and Description of Air Support:
This is a brief preview of some of the support types. Some of them have pictures, which I will add once my 5-day waiting period has expired, and when I do post them I'd like you to please note that they are from very early builds (for instance, one image contains heavy fog. This was an idea I had toyed with for a while but eventually abandoned.). I have not fully decided on these types, there may be more, and some of the ones included here may not end up in the final cut. Comment if you think of any support type you would enjoy seeing.
- Nimble light gunship - Steadily patrols the area, sprays bullets upon enemies with its forward mounted minigun.
- Slow-moving heavy gunship - Circles high above, raining death on your enemies in the form of high-speed missiles.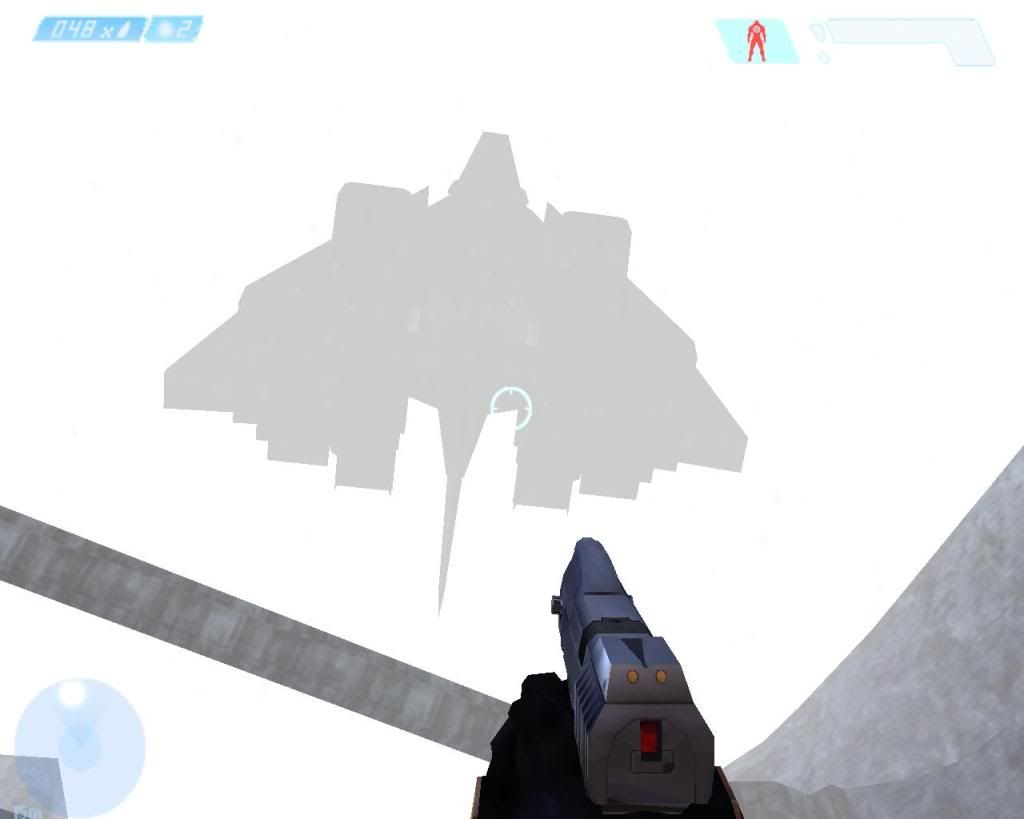 - Orbital bombardment laser (non-purchasable, automatically used) - Concentrated energy fired from orbiting Red Skull vessels. Huge blast radius, be sure to stay clear of the target when this laser is about to be fired.
- Orbital rocket strike (non-purchasable, automatically used) - your commander's flagship unleashes rockets on the planet below in a concentrated area.
The Story:
And now, ladies and gentlemen, here you are: the story which encompasses this entire virtual 3d bloodbath. Written entirely by yours truly, it takes place in an alternate timeline within Halo. As a disclaimer, you may notice a bit of a bias toward Spartan II's. The reason for this is simple - I love Spartan II's. Aren't they the greatest? I love them so much that I made a story where I get to have them as my own, in my own private army; and now here I am, making a campaign based on the very same. Enjoy reading, and if you decide to skip the following wall of text for the time being, please be sure to read it at some point in the future before playing. Sense is simply non-existent if you attempt playing without reading this!
Quote
Spartan II supersoldiers are an idea which the Red Skulls (a privately-owned military organization) purchased from Dr. Halsey of the UNSC, before she was able to patent said idea. Money does have its benefits, as it turns out. The program was perfected by the Red Skull research and development division. Participating children had a much higher survival rate, but the genetic alteration procedures were more painful than ever before. As a result, the overseers of the project decided that the best candidates would be infants, as they would not likely remember this horrible ordeal later in life, and emotional scarring would be reduced. Mjolnir armor, bought by the Red Skulls at the same time as the Spartan II design, was bestowed upon a Spartan when the initiate turned 19. This was the age at which it was determined the genetic enhancements would have taken full effect. They trained with their suit for 2 more years before, at the age of 21, being hand-picked by an officer to join that officer's team, at the Spartan Graduation ceremony. As is apparent, they were not designed to be expendable. Spartan IIs are not informed of their genetic enhancements during their 21 years of training, however. It was thought at the program's initiation that better results would be achieved if Spartans believed that all they did was under their own, naturally-given power. It was the duty of every commanding officer to inform his Spartans of this. Because of this, Spartans are often confused when they meet their normal-sized squadmates for the first time, being towering hulks in comparison.

Stunned by the success of their new supersoldiers, the owners of the RS organization began to contemplate purchasing other patented training methods and armor designs from the UNSC scientists that created them. After careful examination, ODST ballistic armor was selected as the preferred combat apparel to equip Red Skull standard troopers. Spartan IIs, coupled with Red Skull soldiers wearing ODST armor (renamed LAAPs: Lightly-Armored Assault Personnel), formed such a devastating combination in combat that other military organizations began to attempt their own supersoldier programs, such as the Cyberdyne program of the Hollywood Knight organization. The UNSC, too, began work on another supersoldier project, directed by Dr. Halsey, dubbed the Spartan III project. This project favored lighter armor in favor of mobility and flexibility, and incorporated less genetic alterations to reach a 100% survival rate of participants. Paired with marines who had even less armor, the new project only saw mild success, and on many occasions Red Skull squads were dispatched to rescue UNSC soldiers and supersoldiers. Spartan IIs see Spartan IIIs the same way they see marines. In fact, most Spartan IIs prefer fighting alongside their LAAP companions rather than Spartan IIIs, if ever given the choice in joint operations with the UNSC. Spartan II Brigadier General Franklin Marcello had this to say on Spartan IIIs in the UNSC: "They take risks that they can't handle and put their squads in danger, because the name 'Spartan' gives them a feeling of invincibility, when in fact they are not worthy to be called such. They are nothing like us; they would like to think that they are our brethren, but they are not"

You are a new Spartan II, fresh out of training. Your squad is already deployed in a canyon, and they eagerly await your arrival. Your commanding officer has seen fit to put you in charge of this outpost, as no major conflict is expected to develop here, and you need the experience. After all, a bunch of untrained separatists can't possibly be a major threat... right?
This post has been edited by TCK: 26 May 2011 - 03:15 PM